ACCESSORIES
cabaret hat - black
Availability: In stock
$50.00
A well made black cabaret hat with wide grosgrain ribbon flat bow and narrow grosgrain binding at the edge of the curved brim in matching black.  This prop hat is in excellent condition as it was only used for our Veil Collection photoshoot.
Details:
Second hand item (excellent condition)
Black Cabaret Hat
H.M. Smallwares Ltd
100% wool
Circumference: 22" (interior), 21" at top
Hat height: 5.25" at sides / 4" at front
Brim length: 2.75" (slight upward roll at edge), 3" at center front
1.5" width black grosgrain ribbon trim with 4.25" length flat bow
1/4" width black grosgrain ribbon binding at brim edge
Found by Us, Made in China
Final sale item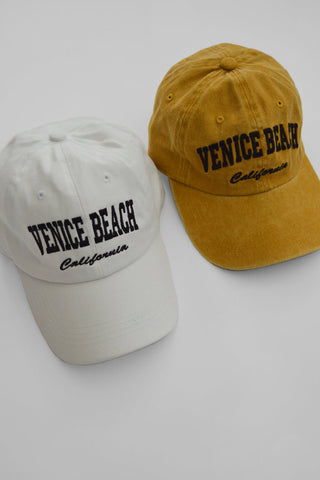 venice beach california baseball hat
Availability: In stock
$30.00
Second hand baseball hat in excellent condition (used only for photoshoot) with Venice Beach California embroidered text.  Available in two color options: washed Sandstone or Sea Salt with black text.  Adjustable fit with back self strap and metal slider with grommet.  The perfect hat for sun coverage or a quick fix for those bad hair days. 
Details:
Second hand item (excellent condition)
Venice Beach California black embroidered text
Available in a washed Sandstone yellow brown color or Sea Salt white
Adjustable size with self strap at back and metal slider
Metal trims are nickel on the Sea Salt and brass on the Sandstone color
100% cotton
Brim length: 5.25" at sides, 3" at center front
Brim width: 7.25"
Circumference: 23.5" (largest size) - adjustable by 4"
Thread stitched vent holes at top of hat
Found by us, made in China
Final Sale item